Born in 1969, the French street artist describes himself as an "Unidentified Free Artist": he appears in public under the pseudonym Invader. He completed his training at a leading art school in Paris. He was inspired by the video games of the 1970s and 80s.
Also known as Space Invader, the Parisian artist began making his mosaic works in the 1990s. He first installed his pixel-like murals in Paris in 1998. He then installed them in another 31 cities in France before they conquered major cities around the world.
To represent the pixels in the 8-bit graphics of the first video and computer games, the artist uses weatherproof square tiles for his mosaics. He attaches these with cement or special glue. All in all, Invader needs at least a week for an installation, including scouting out a spot, attaching it and mapping it. 
He refers to the installation of his iconic imagery as "invasions", which are staged on streets around the world and seem to take over cities from Paris to New York via Hong Kong.Usually Invader places between 20 to 50 pixel images in a city. Often, however, such an invasion takes place in several "waves" and he returns to the same city several times. Invader's mosaic locations are often installed in culturally or historically important places. One of the most famous examples of this is his image of 31 December 1999 on the letter D of the Hollywood Sign in Los Angeles. On later trips to the American metropolis, he also placed other works on the eight other letters of the sign.
Invader's innovative artistic output was also celebrated with his series of Rubik works. Again inspired by the pixel image, Invader painstakingly creates images from Rubik's cubes. The subjects can vary and range from his own subjects, such as Invader currently exhibited at MUCA, to recreations of iconic works from art history and well-known images from pop culture. In keeping with the artist's conceptual vision, these works also benefit from the integration of technology. When viewed through a mobile phone camera, the image is optimised to create a clearer picture of the artwork.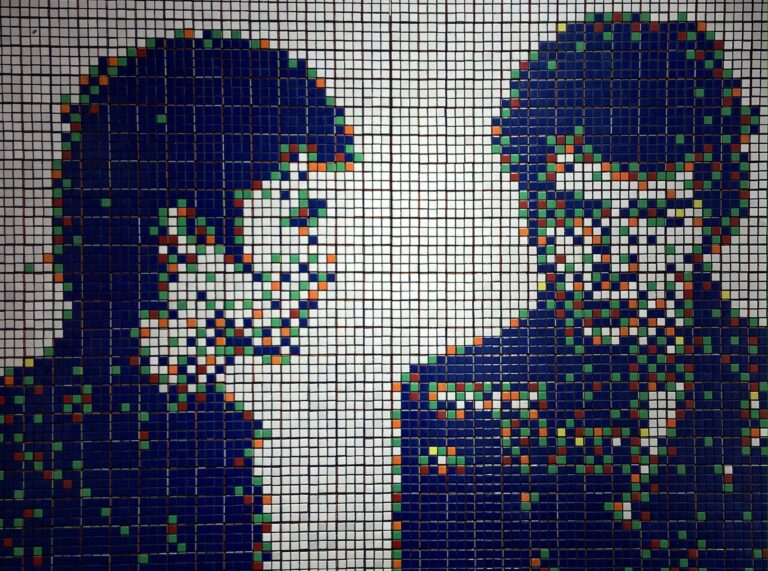 "Space Invaders" in the sea and outer space
Invaders invasions even go far beyond the borders of the (major) cities of this world:
The world's highest Space Invader is located at an altitude of 2362 metres in the ski resort of Anzère in Switzerland, here looking down from a ski lift towards the valley.
Invader also reached the oceans: in 2012, with the help of artist Jason deCaires, known for his underwater sculptures, Invader installed two mosaic works on the seabed in Cancun Bay, Mexico.
In his short film Art4Space, which he made in 2012, the French artist documents an attempt to fly one of his "aliens" into the stratosphere.The artist was also featured in the street art documentary "Exit Through the Gift Shop" in 2010, which raised his profile even further.
Even higher up was "SpaceOne", an Invader mosaic that flew 35 kilometres into the stratosphere. Since 2015, there has even been an Invader Pixel Mosaic in space at the ISS space station.
Invaders "Moon" and "Marilyn" in the "25 Years" exhibition at MUCA Munich
The MUCA anniversary exhibition (06.10.2022 - 10.09.2023) in Munich featured several Invader artworks - from the world-famous Invader icon to his fascinating artworks created from Rubik's Cubes. 
The work "Rubik Shot Red Marilyn" was also temporarily on display in the "25 Years" exhibition. It is from Invader's "Rubik Master Pieces" series, in which the artist creates famous works of art history as three-dimensional sculptures from Rubik cubes.
For the work "Moon", Invader uses a different form of pixelation: the LED lights normally used for billboards in city centres.
This medium not only demonstrates Invader's stylistic and conceptual development, but also challenges the notion of invasive advertising in an urban environment. Also on display was the accompanying print edition "LED", which uses the moon as a source of inspiration.
In the meantime, Invader has created colourful mosaics in over 80 cities, with his nearly 4,000 Space Invaders consisting of a total of over 1.5 million ceramic tiles. His installations have become sought-after collector's items.Invader also creates special pixel works using only black and white tiles, which are generated into a QR code that can be decoded using a standardised scanner or smartphone. The decoded message then usually reads: "This is Invader".
In April 2023, the street art legend Invader also installed some works in Munich, including at Sendlinger Tor, Viktualienmarkt and in the Glockenbachviertel. One of the artist's most important and personal locations, however, is Paris, where his Invader can be found on many corners and walls in the city's alleyways. In June 2011, Invader produced his 1000th work in the French capital and honoured it with an exhibition at La Générale titled 1000.