Banksy is a graffiti artist, political activist, director and painter. Despite the international fame of his works, his identity remains anonymous. Banksy is a pseudonym. It is believed that the artist was born in Bristol, England in 1974. He first became active in the underground scene in Bristol. Over time, he expanded his venues and began to work internationally as well.
Banksy is best known for his stencil art. The subversive, political and often humorous artworks usually relate to current events. His stencils are striking images that are often combined with slogans and slogans. The message is usually anti-capitalist, anti-war and anti-establishment. 
His works of political and social criticism mark streets, walls and bridges in cities all over the world. The secretly painted house facades or his New York action in October 2013 attract international attention. The works regularly appear in art actions and are among the bestsellers. 
"Vandalised Phone Box" by Banksy: Intervention in Soho Square
Banksy has lost a large part of his works after only a short time. A typical example of Banksy's temporary public interventions is the "Vandalised Phone Box": it was removed by the city council shortly after it appeared in Soho Square in London in 2005. However, thanks to the triumph of digital photography and the internet, photos of the work were in circulation within hours, and so digital traces of the work remained.
The meaning of "Vandalised Phone Box" can be read on several levels. The once legendary red phone box, now dismantled, could be seen as a metaphor for the dwindling relevance of modern Britain or for the death of old forms of communication in the new digital age. What seems most relevant, however, is the fact that Banksy proved in a single action that an artist can create his own public sculpture, place it in a familiar urban setting and attract attention for his work - all without the approval of the establishment. The work gained attention not because people were told it was conceptual art, but simply because it hit the zeitgeist of the moment.

Banksy IN THE "25 YEARS" EXHIBITION AT MUCA MUNICH
The MUCA Exhibition "25 Years" (06.10.2022-10.09.2023) comprised numerous original works collected by the founders of the MUCA over a period of more than 25 years.
In addition to many stencil images, the objects "Vandalised Phone Box" and "Met Ball" were also shown. The 2019 exhibition as part of Banksy's series "Gross Domestic Product" published "Met Ball" is a playful reworking of a police helmet: Banksy turned it into a disco ball.
"Are you using that Chair?" - second largest oil painting by Banksy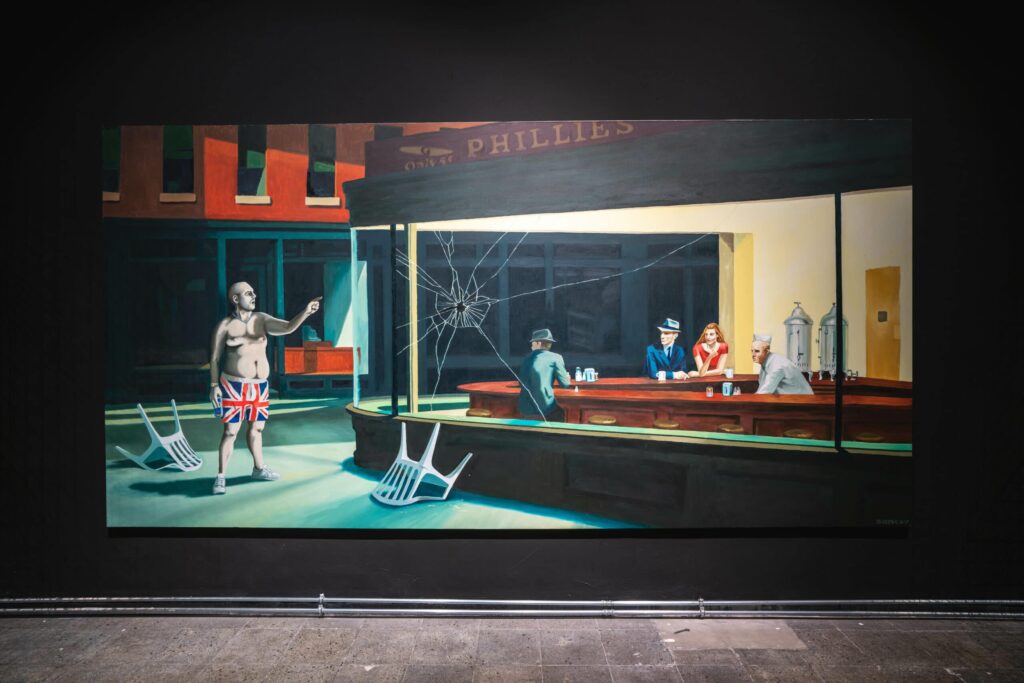 The work "Are You Using That Chair? which was on display in the MUCA exhibition "Icons of Urban Art" until autumn 2022, measures 213 x 426 cm and is considered Banksy's largest work after "Monkey Parliament" from 2009, which was auctioned in 2019 for a record sum of ten million euros.
The painting is based on Edward Hopper's famous painting, "Nighthawks", the American's most famous work. Banksy's "In your face" version is more than twice as large and crops the Hopper original at the top, making the variation even more panoramic. Hopper's painting was created in the weeks following the Pearl Harbour attack at the end of 1941, between a bleak present, the unexpected entry of war and an uncertain future. His figures stand for loneliness, inner as well as outer, which is why he is especially received in this respect in times of Corona.
Background to Banksy's "Are you Using that Chair?"
"Are You Using That Chair?" was painted in oil on canvas and is signed with a grey stencilled Banksy-tag. The self-taught Banksy "transposes" the subject to his 2005 present time, adding an overweight, aggressive pale Englishman in Union Jacks swimming trunks or pants, with two plastic chairs lying on the floor around him as he angrily points to the broken window of the house he presumably tried to smash with one of the chairs. In his hand he holds a can of beer, the label of the Australian Fosters brewery covered. Beer expert and author Michael Jackson mentions as early as 1999 that Fosters was particularly popular with English hooligans.
Banksy is probably alluding to the negative role of his compatriots on holiday or during football matches abroad. At the 2004 European Football Championship, for example, there were violent clashes between English and local Portuguese fans in the tourist resort of Albufeira on 24 June 2004 after England's defeat by hosts Portugal. Already at the European Championship 2000, British football fans without T-shirts, as in Banksy's painting, threw white plastic chairs at German fans. Now the English hooligan/tourist has the undivided attention of Hopper's pictorial staff, who in the original stare lonely-dimly ahead. The standard quietly British question in the pub, "Are You Using That Chair?" contrasts humorously with the intruder.
"Speak softly but carry a big can of paint", says Banksy 2000. The graffiti outsider from the street, the British street artist and football fan Banksy asks politely in words here, but in deeds he is just as much a hooligan and vandal when he demands a place inside, in art history, next to Hopper, Warhol, Van Gogh or Monet (all in the Crude Oils exhibition), in short: next to the few works of art that everyone really knows internationally, which, like Hopper's original, are somewhat worn out by multiple kitsch use. "Are You Using That Chair?" implies that the chair is still or now again vacant, not in use, and Banksy wants to take its place artistically.
Other Banksy projects: "Exit Through the Gift Shop" and "The Walled Off Hotel".
Banksy's first film "Exit Through the Gift Shop" from 2010, which he made with Thierry Guetta, gives an insight into the daily work of street artists and was nominated for an Oscar. In 2014, Banksy received the Webby Award for "Person of the Year". 
Banksy's hotel project also attracted great international attention: "The Walled Off Hotel", located directly at the border wall between Israel and the West Bank, opened in Bethlehem in March 2017. The interior design of the hotel was created by the artist himself with numerous allusions to the Middle East conflict.  
 Banksy's major actions include his work Girl With Balloon, the "shredder work", which was subsequently renamed Love is in the Bin and will be on permanent loan to the Staatsgalerie Stuttgart from March 2019, and the graffiti on a garage in Port Talbot, Wales, created at Christmas 2018. It depicts a little boy with his arms outstretched, happily catching snowflakes with his tongue stuck out. What he doesn't know, however, and what the viewer only realises on second glance, is that the snow is in fact a shower of ash. 
Banksy's Girl with Balloon - Love is in the Bin
Banksy achieved his most media-effective action in October 2018: After a Sotheby's auction in London, a sold painting from his famous series "Girl with Balloon" partially shredded itself through a hidden shredder integrated into the frame. According to Banksy, this action was meant to embody a critique of the art market. The work was subsequently renamed "Love is in the Bin" and will be on loan to the Staatsgalerie Stuttgart from March 2019 to February 2020.