The American artist Burton Morris was born in Pittsburgh in 1964. As a young boy he had an accident and wore a plaster cast over his entire body for several months, only his arms could move. So his parents gave him pencils and he developed his passion for painting and drawing during this time. During this time, he also watched numerous cartoons and read comic books featuring superheroes such as Captain America and Spiderman. These comic book heroes later influenced his art again and again. Morris earned his Bachelor of Fine Arts degree in 1986 and subsequently worked for several advertising agencies in Pittsburgh as an art director.
Morris' works, which often focus on everyday objects that illuminate contemporary society, have been exhibited at the Albright Knox Museum, the Obama Presidential Centre and the Hickory Museum of Art. In popular culture, many are familiar with his works, which hung in the flat of the hit sitcom Friends in the 1990s.
Over the past 30 years, Morris has created iconic paintings that are intended to encourage us to question the way we look at everyday things in our modern culture. His artworks are informed by a fascination with symbols and icons that was shaped by the comic book heroes of his childhood in the 1960s. A time in which Pop Art also first emerged.
In 1990 he founded his "Burton Morris Studios" and began to enlarge his post-pop icons on canvas and to work out his brushwork to the style he has today. 
In the Nightstand Portraits series, Morris created a series of artworks based on people's nightstands. For this, he turned, similar to Pop Art artists Andy Warhol before, to famous personalities from industry, the media and the fashion industry, such as Coco Chanel.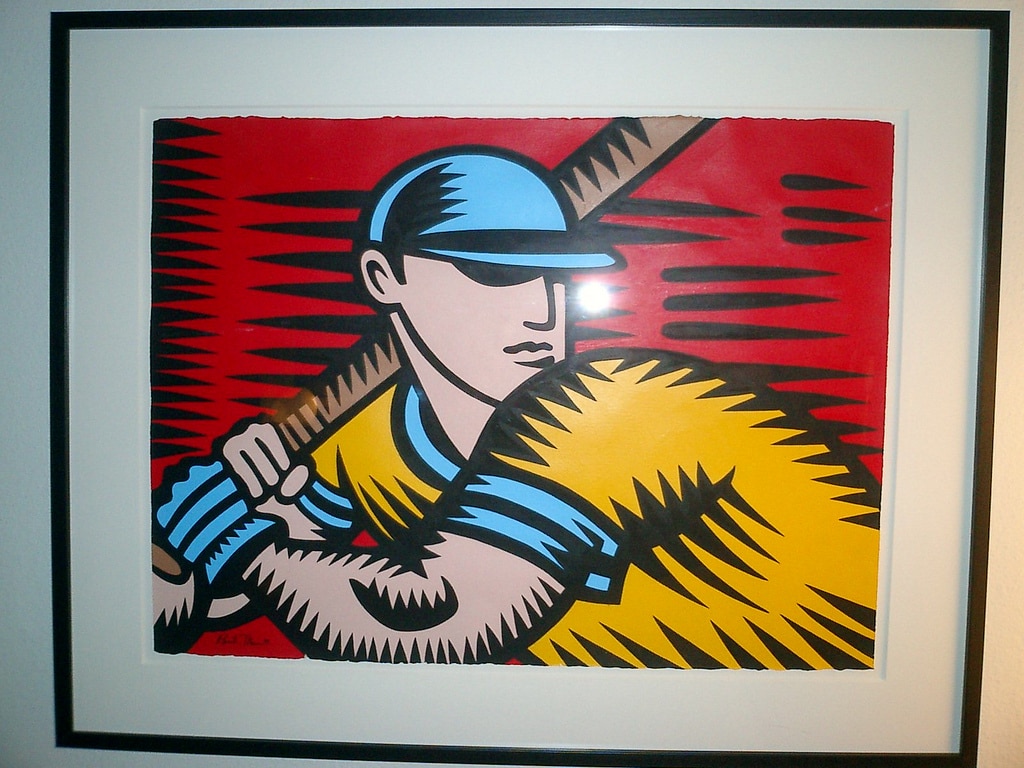 Burton Morris IN THE "25 YEARS" EXHIBITION AT MUCA MUNICH
In the anniversary exhibition (06.10.2022-10.09.2023), "Pop" was on display at MUCA.
This work was acquired in 1998 as one of the first works for the MUCA collection. It shows the distinctive graphic style that has become synonymous with his art-making.
Morris' art for events, brands and personalities
Burton Morris has created artworks for numerous major events around the world over the decades, including the 2004 Summer Olympics in Greece, the 2004 Academy Awards, the 38th Montreux Jazz Festival and the 2010 FIFA World Cup in South Africa.
Many companies and institutions commissioned him, for example the United Nations, Coca Cola Corporation, Samsung, Warner Brothers, Microsoft and Kellogg`s. In 1993, the liquor brand Absolut Vodka selected a work of art by Morris for the Absolut Statehood campaign and included him in the Absolut collection, which also includes works by Andy Warhol and Keith Haring includes. From 1994, his paintings were featured in the globally successful NBC sitcom "Friends", which helped establish Burton's style in pop culture. Collectors of his artwork include celebrities such as Brad Pitt, Tommy Hilfiger, Oprah Winfrey and Barack Obama.