Barry McGee was born in 1966 in San Francisco, California. He graduated from the San Francisco Art Institute in 1991, majoring in painting and printing. Even before his academic career, McGee started his artistic work very early. In 1980, he began painting walls in his hometown. He worked under the pseudonym "Twist" and gained notoriety as such. Barry McGee's early public art, often dealing with the stressful life of the urban environment, is infused with a sense of melancholy.
He himself sees his graffiti as a kind of visual communication: by placing his works in public spaces, they find access to a wider audience than they ever could in a gallery or museum.
After spreading his tags throughout San Francisco and neighbouring cities, however, the artist yearned to expand his work. Thus, his work found its way into gallery spaces. McGee is considered a pioneer in the gallery scene, as he was one of the first street artists to start painting the walls in galleries.
What is the "Mission School"?
Together with other graduates of the San Francisco Art Institute, McGee founded the Mission School. This lowbrow art movement borrows heavily from the folk art, comic and graffiti art of the 1970s and 1980s. Different works of this art movement are, contrary to usual conventions, deliberately exhibited as crowded clusters. Other representatives of this art movement include Ruby Neri, Dan "Plasma" Rauch and Margaret Kilgallen.
How does Barry McGee work?
McGee is strongly influenced by the graffiti art of the 1970s and 1980s, Mexican murals and installations by other artists. As a medium, he uses materials such as wood and metal in addition to canvas, paper and paint. His installations often consist of used and discarded objects, such as glass bottles and spray cans. The works are characterised by abstract, geometric structure, often incorporating characters. His unique composition of abstract colour fields and patterns has become iconic.
His drawings, paintings and installations reflect contemporary urban culture. In doing so, they reflect and criticise the sensory overload of advertising to which modern people in urban spaces are exposed on a daily basis. McGee's trademarks include cartoonishly drawn faces that often appear to be lost in thought with a confused or sad look. These portraits are both symbols for all the people who have to live on the streets and bearers of his socio-political commentary.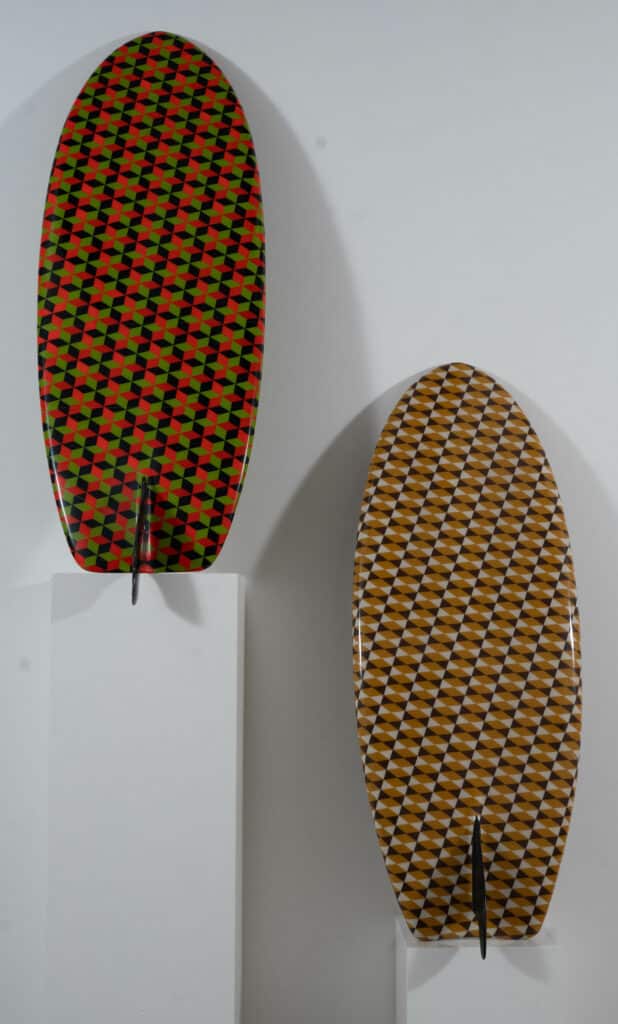 Barry McGee IN THE "25 YEARS" EXHIBITION AT MUCA MUNICH
The MUCA exhibition "25 Years" (06.10.2022-10.09.2023) in Munich included two surfboards designed by McGee.
The artworks illustrate McGee's development in dealing with geometric patterns. Inspired by Islamic ornaments, these works show his evolution from a well-known graffiti artist to a celebrated contemporary artist of the 21st century.
"The Street Market" by Barry McGee at the Biennale
Barry McGee enjoys high recognition and influence within urban art movements. He is particularly popular in the surf, skate and graffiti scenes. His work has been exhibited in solo and group shows at a wide variety of galleries and is now part of the repertoire of the Museum of Modern Art in New York, the San Francisco Museum of Modern Art, the Berkeley Museum of Art and Pacific Film Archive, and many other institutions.
McGee gained international notoriety when his works were exhibited in the collective installation "The Street Market" at the Venice Biennale in 2001. As a result, the value of his artworks increased so dramatically that they were stolen from the streets of San Francisco.