Born in Brooklyn, New York, in 1927, Alex Katz has had a career spanning over 70 years. Katz grew up in a Russian emigrant family in a Queens suburb. His parents showed great interest for poetry and art. So Katz attended Woodrow Wilson High School, where he could devote the afternoons to the arts. From 1946 Katz studied painting with Morris Kantor at the Cooper Union Art School in Manhattan. 
After his studies, Katz received a scholarship to the Skowhegan School for Painting and Sculpture in Maine. This step proved to be groundbreaking for his further artistic development as a painter. Skowhegan's plein air painting encouraged him to paint from life.
Influenced by film, advertising and billboards, Katz is considered a precursor of Pop Art. He later refined his style by making large-scale, detached portraits in an almost cartoon-like manner.
ALEX KATZ IN THE "25 YEARS" EXHIBITION AT MUCA MUNICH
At MUCA, Katz's three portraits of women "Sara", "Sophie" and "Vivien" were on display in the "25 Years Exhibition" (06.10.2022-10.09.2023). 
Produced in 2012, these 32-colour silkscreens are an excellent example of Katz choosing a tighter image focus and further refining his aesthetic to connect directly with an increasingly visual audience.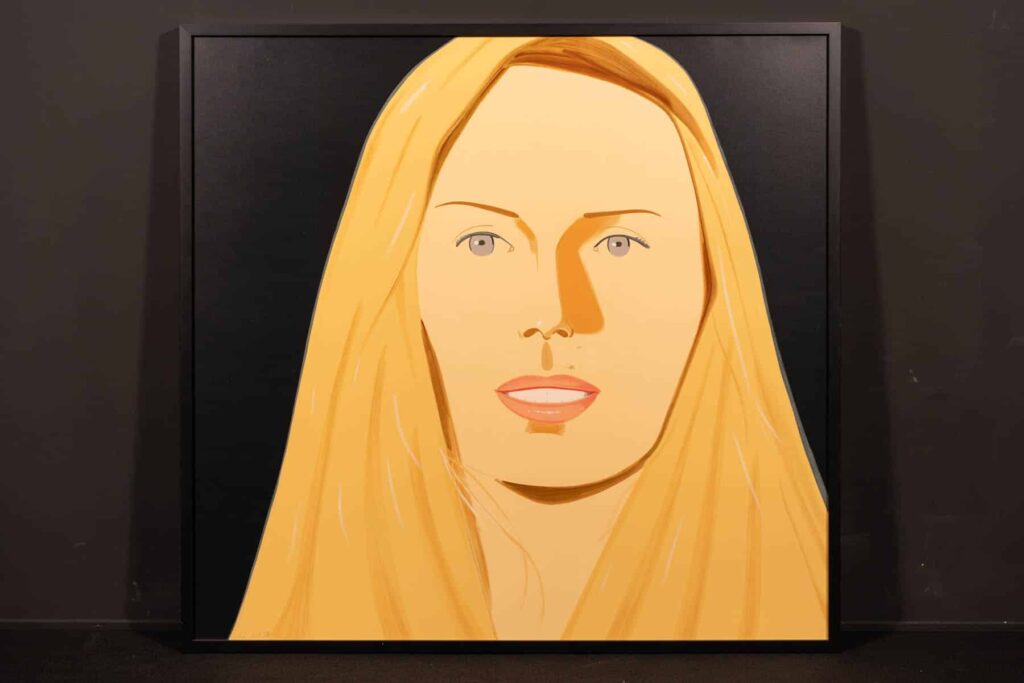 In the 1950s, in addition to painting, Katz made small collages of figures in landscapes from fine strips of paper. At the end of the 1950s, his interest in portraits was increasingly aroused; here he painted primarily his wife and muse Ada. Even then, Katz began to use monochrome backgrounds. In 1959 he created his first painted cut-out, first cut out of the canvas and then mounted.
In the 1960s, Katz then moved on to painting directly on moulded aluminium plates, a technique he then retained. Now Katz produced large-format paintings, often with cropped faces. In 1965, Katz began a successful career as a printmaker, producing Editions in lithography, etching, silkscreen, woodcut and linocut. From the mid-1960s onwards, his works increasingly showed groups of figures and he portrayed the social world of the painters, poets, critics and other colleagues who surrounded him. 
From 2010, Katz cropped individual portraits more and more drastically and also began to compose several portraits. Since 2015, the beginning of a work by Katz often involves taking photos on his mobile phone. He then prints these out and cuts them out to compose a collage. This is usually followed by a painted study of the collage model.
Alex Katz conquers public spaces
Since 1977, he has been commissioned to do public works in various inner-city locations. These commissions ranged from murals in La Jolla to billboards in Times Square and illustrate the influence that Pop Art had on art in urban spaces.