KAWS is an American artist and designer. He was born in New Jersey in 1974 under the name Brian Donnelly. He began drawing as a small child and developed a passion for comics and cartoons early on. He graduated from the School of Visual Arts in New York in 1996.
Even during his studies, he was able to boast an impressive portfolio. His trained eye enabled him to faithfully reproduce the most famous works of art history. However, he decided to develop his own distinctive style.
Where does the stage name KAWS come from?
The artist became known and achieved his first great success in the 1990s with his graffiti. Under the pseudonym KAWS, he reworked the advertisements at bus stops and telephone booths with his own motifs. In 1995, he met the artist Barry McGee in San Francisco, who was already famous at the time. KAWS learned from him how to open the advertising panels at bus stops and how to remove the advertising posters in the meantime for editing in the studio.
His artist name was inspired by the large-scale letter constellations on commercial posters that dominated the visual streetscape of New York in the 1990s. The four capital letters have no particular meaning: KAWS chose them for their sound and visual composition. By painting over the billboards, he implemented his intention to reclaim public places.
Starting in New Jersey, his art soon found its way to other major cities such as Paris, Berlin and Tokyo. In 1996, he worked briefly in animation for Walt Disney Animation Studios, which helped shape his further development.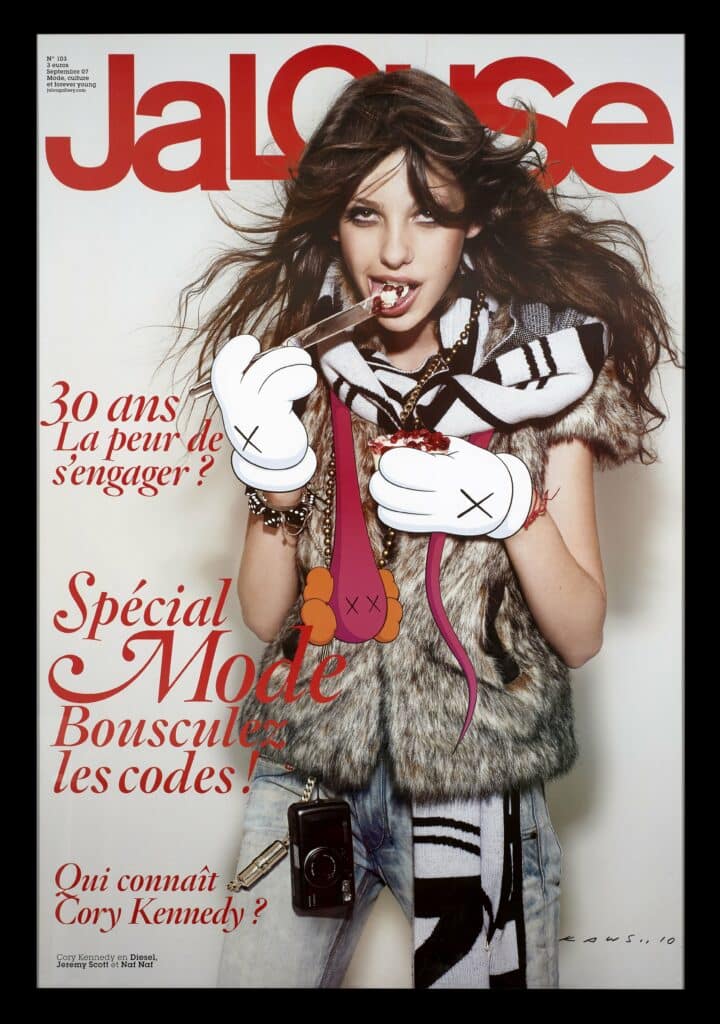 KAWS often uses well-known characters, such as the comic figures from The Simpsons, Snoopy or SpongeBob, reinterprets them and redesigns them in his own way. In 2001, KAWS created a series of paintings entitled "Package Paintings". KAWS alienated the Simpsons characters with his typical artistic trademarks and called them "THE KIMPSONS".
This is also where the famous "Companion" face with crossed eyes, recurring in KAWS, appears. His sad, almost dead-looking "Companions" can be seen as anti-heroes of the always cheerful Mickey Mouse.
In 1999, the artist developed the face into a three-dimensional figure made of vinyl and initially sold them as smaller toy "Companions". He releases a total of 1500 of these in three colours.
The "Companion" becomes KAWS' trademark, which he continues to develop. For him, every figure he creates is a reaction to those that already exist. KAWS is releasing "Companion" in ever larger scales. In 2019, he is placing his largest Companion figure to date, 40 metres long, entitled "Holiday" in a relaxed pose at the foot of Mount Fuji in Japan.
KAWS "Companion" in the "25 Years" exhibition at MUCA Munich
In our MUCA anniversary exhibition (06.10.2022 - 10.09.2023) in Munich was the acrylic figure 4ft Companion (dissected black) from 2009. The left side completely covered in black, the right side shows what lies beneath: Organs, brain and eyes in bright colours.
The world-famous "moon man
KAWS now lives and works in Brooklyn, where pop culture motifs serve as his source of inspiration. Over time, his figures have become more abstract and larger: some sculptures are up to ten metres high. He uses materials such as wood, aluminium, steel and fibreglass.   
With his works, he continuously blurs the boundaries between art and commerce. KAWS has already cooperated with big brands like Nike and designed record covers for musicians like Kanye West. The "Moon Man" he designed for the MTV Video Music Awards 2013 is world-famous. In addition to works on canvas, drawings on street walls and large-scale sculptures, KAWS also designs toy figures. His work has been shown in galleries, museums and open-air exhibitions worldwide and is part of the collections of the High Museum of Art in Atlanta, the Modern Art Museum of Fort Worth and the Rosenblum Collection in Paris. Collectors of his work include producer and rapper Swizz Beatz and musician Pharell Williams.